The Delaware County Finance Authority (formerly the Delaware County Port Authority) is a government entity that is devoted to economic development. The DCFA provides support to local business through tax-exempt or tax-structured activities as motivation to locate within Delaware County.
​The DCFA was created on April 24, 2006 by Resolution of the Delaware County Board of Commissioners. With seven (7) board members, the DCFA meets publicly each month (see schedule) to discuss ways to promote economic activity within the county. To contact the DCFA with questions or concerns, please call our financial advisor or visit our Contact Page.
BOARD OF DIRECTORS
Bill Bishop, Chair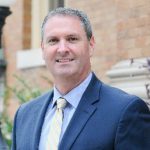 Term: 2017 – 2020
President and CEO, Associated Insurance Agencies, Inc.
(614) 376-2266
A native of Westerville, Ohio, he is the Managing Partner of Associated Insurance Agencies, Inc., which was established in 1923, has eight locations, employs 44 associates, and represents over 24 insurance companies directly.
Bill is active in a variety of professional associations and local civic organizations. He serves on the board of trustees of the Ohio Chamber of Commerce, previously chaired the chamber's small business council, and was named the 2011 Westerville Area Business Person of the Year.  He also is a former trustee of the Independent Insurance Agents Association of Ohio and chaired its legislative committee.  Bill is a 1993 graduate of The Defiance College with a Bachelor of Science Degree in Business Management.  Bill resides in Galena, OH with his wife Jennifer and two sons Ryan and C.J.
Kent H. Shafer, Vice-Chair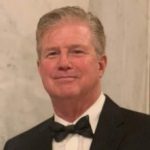 Term: 2018 – 2021
Vice Mayor, City of Delaware, Ohio
(740) 602-1420
Kent H. Shafer spent 33 ½ years with the Columbus, Ohio Division of Police, including 18 years as a commander, retiring in July 2012.  Mr. Shafer held a U.S. Government Secret-level Clearance.  He is a graduate of the F.B.I. National Academy, and has undergraduate degrees in electronics engineering (Ohio Institute of Technology) and business administration (Mt. Vernon Nazarene University), and has completed one year toward a Master's Degree in Public Administration (Ohio State University).  Mr. Shafer owns his own consulting business focused on criminal justice, public safety and public policy matters.  Mr. Shafer is the recipient of the Washington Times Foundation National Service Award for his design and development of the Division's Strategic Response Bureau and community policing programs.
Vice-Mayor Shafer has lived in Delaware for 14 years and in Delaware County for over 25 years.  He and his family are members of William St. United Methodist Church in Delaware.  He serves on his neighborhood's Home Owners Association Advisory Board, was President of the Village Academy Athletic Boosters from 2008-2014, and spent 8 years as a volunteer baseball coach for the Delaware Recreation Department.
In addition to serving as Vice-Mayor and At-large Council Member, Mr. Shafer serves as Chairman of the City's Parking & Safety and Public Works/Public Committees, is a member of the Finance Committee, and serves as the City's representative to the Mid-Ohio Regional Planning Commission (MORPC).
David C. Stadge, Treasurer

DCFA Term: 2018-2021
Delaware County Board of Elections
(614) 638-5888
David served as a Senior Manager at Deloitte for 13 years, was an Account Executive at international software firms for more than eight years, worked as a Financial Analyst developing and implementing workforce programs in Central Ohio, and owned a successful specialty retail and coffee shop for 15 years. David also held several increasingly responsible positions with the State of Illinois last serving as the Chief Fiscal Officer of the Illinois Department on Aging. David is a 1970 graduate of Murray State University, with a Bachelor of Science Degree in Accounting and Finance and is a CPA having passed the CPA exam in 1977 while a resident of Illinois.
In addition to serving on the Finance Authority Board, David is an eight year member of the Delaware County Republican Party, serving four years as treasurer, and has been a member of the Executive Committee for six years. David also serves as a citizen representative appointed by the County Commissioners on the Board of the Berkshire Landing New Community Authority and is the Chair of the newly formed Energy Special Improvement District.
David served in the United States Regular Army and was stationed at the Pentagon serving in the Office of the Assistant Chief of Staff for Intelligence for his tour of duty.
​David and his wife Vicki reside in Westerville and attend the Church of the Messiah United Methodist Church.
Scott Cubberly, Secretary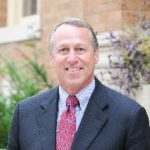 Term: 2019 – 2022
Senior Associate, Equity
(614) 395-5718
Scott is a Senior Associate at Equity, and works in Development, and Brokerage. He has a real estate license in both Ohio and Florida. Scott formerly was President of Cubberly Studios, a three generation photography studio with several locations in central Ohio. He has been very active in the community and served as Board Chair of the Delaware Area Chamber of Commerce. Currently, Scott is on the Board of Directors for the Columbus Speech and Hearing. He is also helping several non-profits with their real estate needs.
Frank Reinhard, Board Member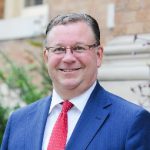 Term: 2019 – 2022
Vice President – Corporate Banking
First Commonwealth Bank
(740) 272-2482
Frank is a native of Delaware Ohio and is a Vice President in Corporate banking with First Commonwealth Bank.   He has over 25 years of banking and leadership experience in Central Ohio.  He enjoys providing a range of tailored services, in particular loans and Treasury management services, to companies to help them grow their business.   He is very involved with the community, and has served as Board Chairman for the Delaware Area Chamber of Commerce and the Delaware County Fair.    He currently serves on the Board of Directors for the Delaware County Foundation and the Delaware Rotary Club.
Frank earned a bachelor's degree in Business Administration from the University of Toledo and is a graduate of the Graduate School of Banking, University of Wisconsin.
Franz A. Geiger, Board Member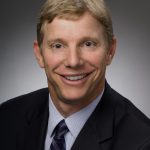 DCFA Term: 2020-2023
NP Limited Partnership
(740) 833-2112
Franz Geiger is in his twenty-first year as Managing Director of NP Limited Partnership, the developer of POLARIS Centers of CommerceÒ.  He is general counsel of NP.  He manages the day-to-day operations of the POLARIS development and his responsibilities include leasing, legal matters, financing, construction and property management.  He is also President of the Polaris Owners Association, Inc. and a past President of the Central Ohio Chapter of NAIOP.  He is an Ohio licensed real estate broker.
Prior to his role at NP, Mr. Geiger served as Assistant Director of Real Estate and Facilities Services at The Huntington National Bank in Columbus.  He also has served as an Associate Attorney at Dinsmore & Shohl and at Enz, Jones and LeGrand law firms.
He holds a Juris Doctor degree from The Ohio State University Moritz College of Law and a Bachelor of Arts degree from The University of Michigan.  He has taught Real Estate Development at The Ohio State University Moritz College of Law since 2017.
He has served on various community zoning boards including New Albany Planning Commission and the Rocky-Fork Blacklick Accord Panel and is presently on Columbus' Building Services Review Committee.
POLARIS Centers of Commerce is a 1,200-acre master planned business-retail-entertainment campus, developed by NP, on both sides of I-71, two miles north of I‑270.  With capital improvements completed or under construction exceeding $1 billion, POLARIS is expected to achieve a build-out value of more than $2 billion.