The Delaware County Finance Authority (formerly the Delaware County Port Authority) is a government entity that is devoted to economic development. The DCFA provides support to local businesses through tax-exempt or tax-structured activities as motivation to locate within Delaware County.
​The DCFA was created on April 24, 2006, by the Resolution of the Delaware County Board of Commissioners. With seven (7) board members, the DCFA meets publicly each month (see schedule) to discuss ways to promote economic activity within the county. To contact the DCFA with questions or concerns, please call our financial advisor or visit our Contact Page.
BOARD OF DIRECTORS
Bill Bishop, Chair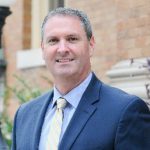 Term: 2021-2024
President and CEO, Associated Insurance Agencies, Inc.
(614) 376-2266
A native of Westerville, Ohio, he is the Managing Partner of Associated Insurance Agencies, Inc., which was established in 1923, has eight locations, employs 44 associates, and represents over 24 insurance companies directly.
Bill is active in a variety of professional associations and local civic organizations. He serves on the board of trustees of the Ohio Chamber of Commerce, previously chaired the chamber's small business council, and was named the 2011 Westerville Area Business Person of the Year.  He also is a former trustee of the Independent Insurance Agents Association of Ohio and chaired its legislative committee.  Bill is a 1993 graduate of The Defiance College with a Bachelor of Science Degree in Business Management.  Bill resides in Galena, OH with his wife Jennifer and two sons Ryan and C.J.
Kent H. Shafer, Vice-Chair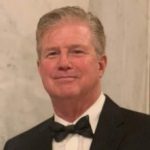 Term: 2022-2025
Vice Mayor, City of Delaware, Ohio
(740) 602-1420
Kent H. Shafer spent 33 ½ years with the Columbus, Ohio Division of Police, including 18 years as a commander, retiring in July 2012.  Mr. Shafer held a U.S. Government Secret-level Clearance.  He is a graduate of the F.B.I. National Academy, and has undergraduate degrees in electronics engineering (Ohio Institute of Technology) and business administration (Mt. Vernon Nazarene University), and has completed one year toward a Master's Degree in Public Administration (Ohio State University).  Mr. Shafer owns his own consulting business focused on criminal justice, public safety, and public policy matters.  Mr. Shafer is the recipient of the Washington Times Foundation National Service Award for his design and development of the Division's Strategic Response Bureau and community policing programs.
Vice-Mayor Shafer has lived in Delaware for 14 years and in Delaware County for over 25 years.  He and his family are members of William St. United Methodist Church in Delaware.  He serves on his neighborhood's Home Owners Association Advisory Board, was President of the Village Academy Athletic Boosters from 2008-to 2014, and spent 8 years as a volunteer baseball coach for the Delaware Recreation Department.
In addition to serving as Vice-Mayor and At-large Council Member, Mr. Shafer serves as Chairman of the City's Parking & Safety and Public Works/Public Committees, is a member of the Finance Committee, and serves as the City's representative to the Mid-Ohio Regional Planning Commission (MORPC).
Franz A. Geiger, Secretary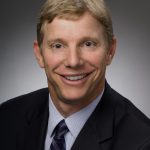 DCFA Term: 2020-2023
NP Limited Partnership
(740) 833-2112
Franz Geiger is in his twenty-first year as Managing Director of NP Limited Partnership, the developer of POLARIS Centers of CommerceÒ.  He is the general counsel of NP.  He manages the day-to-day operations of the POLARIS development and his responsibilities include leasing, legal matters, financing, construction, and property management.  He is also President of the Polaris Owners Association, Inc. and a past President of the Central Ohio Chapter of NAIOP.  He is an Ohio-licensed real estate broker.
Prior to his role at NP, Mr. Geiger served as Assistant Director of Real Estate and Facilities Services at The Huntington National Bank in Columbus.  He also has served as an Associate Attorney at Dinsmore & Shohl and at Enz, Jones, and LeGrand law firms.
He holds a Juris Doctor degree from The Ohio State University Moritz College of Law and a Bachelor of Arts degree from The University of Michigan.  He has taught Real Estate Development at The Ohio State University Moritz College of Law since 2017.
He has served on various community zoning boards including New Albany Planning Commission and the Rocky-Fork Blacklick Accord Panel and is presently on Columbus' Building Services Review Committee.
POLARIS Centers of Commerce is a 1,200-acre master-planned business-retail-entertainment campus, developed by NP, on both sides of I-71, two miles north of I‑270.  With capital improvements completed or under construction exceeding $1 billion, POLARIS is expected to achieve a build-out value of more than $2 billion.
Frank Reinhard, Board Member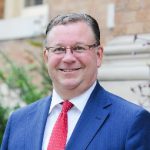 Term: 2019 – 2022
Regional President, Delaware Market
First Citizens National Bank
(740) 816-0458
Frank is a native of Delaware Ohio and is the Regional President of the Delaware Market with First Citizens National Bank.   He has over 25 years of banking and leadership experience in Central Ohio.  He enjoys providing a range of tailored services, in particular loans and Treasury management services, to companies to help them grow their business.   He is very involved with the community and has served as Board Chairman for the Delaware Area Chamber of Commerce and the Delaware County Fair.    He currently serves on the Board of Directors for the Delaware County Foundation and the Delaware Rotary Club.
Frank earned a bachelor's degree in Business Administration from the University of Toledo and is a graduate of the Graduate School of Banking, University of Wisconsin.
John Comerford, Ph.D., Board Member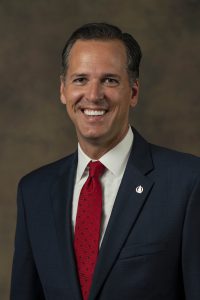 Term: 2021-2024
President, Otterbein University
Dr. John Comerford joined Otterbein as president in 2018. He served as president of Blackburn College in Carlinville, Illinois, from 2013 to 2018 and previously held high-level administrative roles with Westminster College in Missouri, the University of Kansas, and Missouri Western State University.
Now in his fourth year at Otterbein, the University has made significant progress on multiple fronts:
• Student diversity continues to increase, with the fall of 2021 entering class becoming the most diverse in Otterbein's history – 28% students of color.
• Our commitment to access and affordability has led to growth in low- and moderate-income students. 35% of Otterbein students are now Pell grant eligible.
• A new innovation fund has been established to fund new academic and co-curricular programs, building on our recent success in new programs from Engineering to Athletic Training.
• The Advantage program has attracted 16 corporate partners with more than 71,000 total employees. Employees and dependents of partners get generous financial aid, while the companies work with Otterbein on internships, professional development, and other workforce issues.
• A new partnership with Columbus State Community College has opened a CSCC center on Otterbein's campus. New 2+2 degree programs will be developed through this collaboration, which will feature dual admission and a common advising program.
• Alumni and friends were challenged to support students during the pandemic and responded. Annual fundraising doubled to over $5 million in 2020/21.
• The University purchased a farm next to campus, one of the last remaining undeveloped parcels in Westerville, with intentions to develop a $250 million+ mixed-use community featuring residential, office, and retail opportunities to serve faculty, staff, students, and the community.
• Otterbein was designated by the American Association of Colleges & Universities as a Truth and Racial Healing Campus Center.
• Otterbein's profile has increased regionally and nationally, highlighted by hosting a 2019 CNN/New York Times Democratic Presidential Debate, attracting the office of former Governor John Kasich, featuring speakers including John Kerry and Arnold Schwarzenegger, and being the first college in Ohio to announce a return to in-person classes in Fall 2020.
Dr. Comerford serves as a board member for Simon Kenton Council of Scouts BSA, Westerville Area Resource Ministry, Delaware County Finance Authority, and Westerville Chamber of Commerce. As a father of three, he also spends time driving his children around to their many activities—Boy Scouts, Girl Scouts, 4H, soccer, cheerleading, and church activities. The native of Kenosha, Wisconsin, holds a Ph.D. in higher education administration from the University of Kansas.
Mike Frommer, Board Member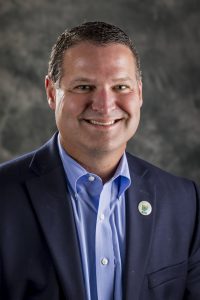 DCFA Term: 2022-2025
Michael Frommer has over 25 years of management and leadership experience as both a government executive and engineering consultant in the water industry. His professional focus has been on developing and implementing public policy to support community growth and infrastructure development, organizational change management, stakeholder engagement, and community leader collaboration. Currently, Michael is the Midwest Regional Strategic Growth Lead for Arcadis and his responsibilities include the expansion of Arcadis' water market throughout the Midwest through the development of industry-leading campaigns, client development, strategic hiring, and geographic expansions of service.
Previously, he held positions with Delaware County as the County Administrator and Executive Director of the Regional Sewer District, with AECOM/URS as Managing Principal and Vice President of the Columbus Office, and with Southwest Licking Community Water and Sewer District as General Manager. He is a past president of the Ohio Water Environment Association, which is a 2,200-member organization focused on improving the waters of the State of Ohio, and has been very active in the American Water Works Association. He received his Bachelor of Science in civil engineering from Ohio Northern University and is currently registered as a Professional Engineer in the State of Ohio. He and his wife, Jennifer, have lived in Delaware County for over 25 years and currently live in Powell with their two sons, Matthew and Nicholas.